Stay tuned for more information on the 2024 Next Generation Success in Leadership Conference! Dates and location coming soon.
What makes Next Gen such a valuable event for distribution professionals?
Opportunities to connect with peers across different markets and brands
World-class educational content that speaks to your everyday challenges
Leadership tips for navigating today's changing alcohol and labor markets
Work hard…then play harder in our fun-filled networking activities and games
---
Cheers to Our 2023 Sponsors!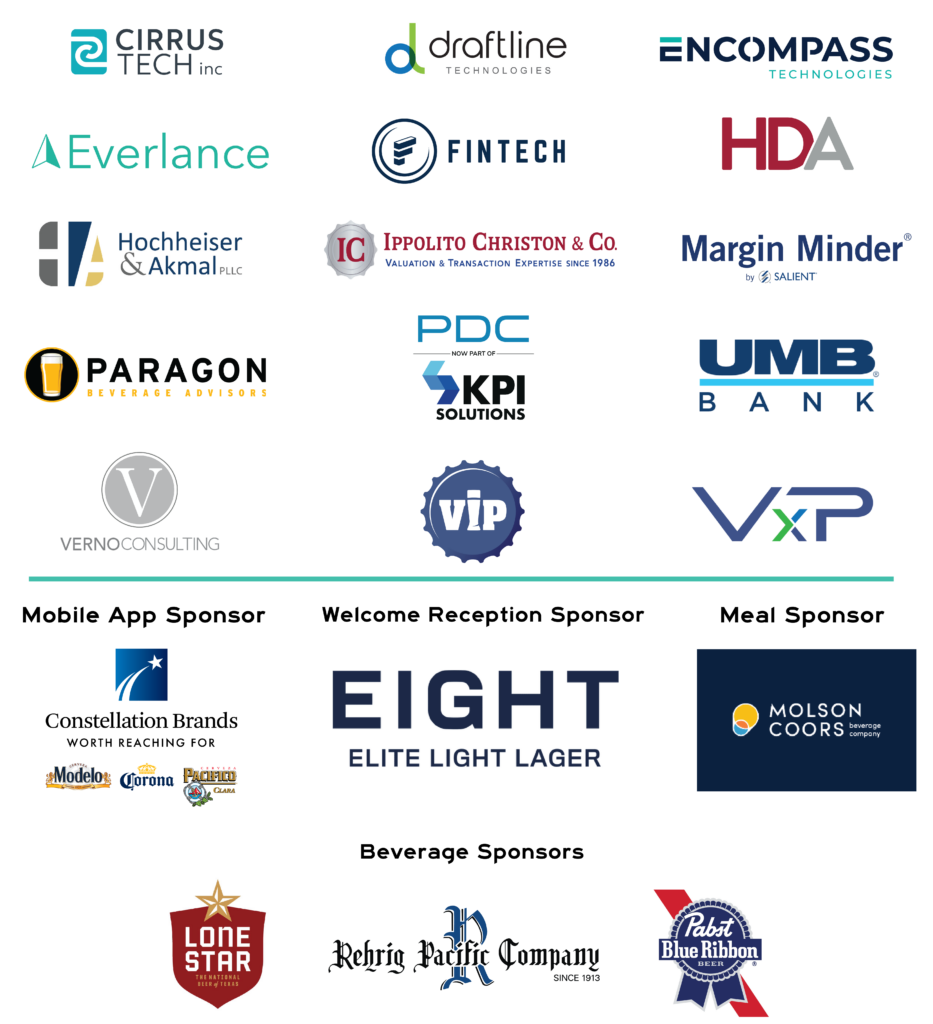 2023 Agenda
We were thrilled to have a stellar roster of industry experts, global thought leaders and your own Next Gen peers delivering actionable insights at the 2023 conference.  Click here to see a more in-depth schedule with additional details on sessions and speakers.
Tracy Walder
Former CIA Officer & FBI Special Agent, Educator, and Author
Attendees at the NBWA Next Generation Success in Leadership Conference will hear the incredible true story of Tracy Walder — a young woman who went straight from her college sorority to the frontlines of the war on terror. As a covert operative for CIA's Counterterrorism Center, she assumed aliases, thwarted terrorist attacks, debriefed terrorists at black sites and went on to become one of the few women to work both at the CIA and FBI. Walder will detail her riveting journey while sharing her impactful message: don't try to change who you are to fit what you think your job wants you to be. We often get so caught up in trying to answer the question "why?" that an opportunity passes us by. Calling on her own unconventional journey, Tracy Walder demonstrates how embracing the question "why not?" can be life changing.
Jennifer Hauke
Founder & President, Draftline Technologies
Jennifer is the founder and President of DraftLine Technologies as well as the creator of the DraftLine SmartSystem, a technology platform providing distributors with real time technician routing, scheduling and brewery approved reports designed to adhere to best practices while improving performance and efficiency throughout all facets of draft service and maintenance. 
Her company currently manages and tracks over 900,000 draft lines across the United States.  Jennifer attended Wayne State University in Michigan and has served exclusively within the draft industry for the past thirty years.  Her experience has spanned from draft service, installation, administration and routing to product research and software development.   
Orman Anderson
Chief Financial Officer, Glazer's Inc.
In 2013, Orman Anderson left a career in banking to join Glazers where he is currently the CFO. After the financial crisis, bankers developed such a poor reputation that he needed to find work in a more respectable profession, like selling liquor. Glazers is the third largest MolsonCoors distributor in the U.S. and operates in Texas, Arkansas and Louisiana.
Previously, Orman was an investment banker at JPMorgan (Dallas) and Bear, Stearns & Co. Inc. (New York and Dallas). He began his career as an auditor at Price Waterhouse (Dallas).
Orman enjoys hiking, biking, running and reading. In 2020, he biked with his daughter from Seattle to San Francisco and he has made multiple backpacking trips to Philmont Scout Ranch in New Mexico with his sons. His audible account has over 400 titles and he is an avid podcast listener. Orman also enjoys doing routine maintenance on his family's vehicles.
Mr. Anderson received a Bachelor of Science in Accounting from Brigham Young University (1993) and an MBA from the Wharton School at the University of Pennsylvania (1998).
Leslie Harris
Director of Business Analytics, Adams Distributing
We are thrilled to welcome Leslie Harris, Director of Business Analytics at Adams Distributing as a Best Practice Session speaker — where she will unveil a fresh approach to how they're prioritizing draft offerings and doubling down on market share potential.
Amy Baldwin
Managing Director of Organizational Development, Gulf Distributing Holdings, LLC
Amy Baldwin is a 16-year marketing and management professional in the beverage industry. Amy brings years of experience in beverage marketing, management, and strategic planning to Gulf Distributing Holdings, LLC. Eternally optimistic, Amy's passion lies with the employees as she continues to drive culture initiatives like the company DEI plan, while improving employee engagement through activities and training. Amy believes in empowering Gulf's employees to contribute to the development and execution of the company's strategic plan and to LIVE the company mission to effect positive change in the communities where they do business. Improving internal processes and functions, taking advantage of new technology, and constantly developing the company's talent are top priorities for Amy, as Gulf demonstrates the ability to win today while keeping a future-focused approach that ensures success for generations to come.
Amy is married to her husband of 15 years, and they have two caring, compassionate, intelligent children in 6thand 7th grade.  They also have two dogs that Amy's husband never wanted but now loves. The Baldwin family resides in lower Alabama, where downtime includes watching college football, spending time with their incredibly supportive family and friends, and being active in the community.
Dane Johnson
Chief Operating Officer & General Counsel, Silver Eagle Beverages, LLC
Dane A. Johnson is Chief Operating Officer & General Counsel for Silver Eagle Beverages, LLC.  In this role, Johnson is responsible for executive oversight of the company's operations, including the Delivery, Warehouse, Fleet, Supply Chain, Health, Safety, Environment and Quality (HSEQ), and Legal Departments. 
Silver Eagle Beverages, LLC has over 550 employees who service a territory that includes the greater San Antonio area and additional counties in southwest Texas.  Silver Eagle also distributes Constellation beers, a broad selection of national and local craft beers, craft spirits, and several non-alcohol beverages and waters. 
Johnson worked at two Houston-area law firms before joining Silver Eagle Beverages, LLC. in 2013.  He is a graduate of the University of Texas at Austin with a Bachelor of Arts in Economics, a Juris Doctor, and a Master's in Business Administration from the McCombs School of Business at the University of Texas. 
With an interest in serving the community, Johnson has volunteered his time to various San Antonio-area non-profit organizations, including Mission Road Ministries. 
Johnson and his wife have two young children and his family are members of St. David's Episcopal Church. 
Tyler Denny
Sales Manager, Beyond Beer
Tyler Denny is the Sales Manager of Beyond Beer at Fahr Beverage in Waterloo, IA. He has worked in the beverage distribution industry for 11 years and has been at Fahr Beverage for over 9 years. He has had many roles at Fahr Beverage and really enjoys the craft beer space as he is one of 142 Advanced Cicerones in the country. 
Chris Steuterman
Senior Vice President & Director of Beverage Finance, UMB Bank
Chris joined UMB Bank in 2020 after 15 years serving beverage wholesalers and suppliers with other financial institutions.  In his current role at UMB, Chris engages with beverage wholesalers and suppliers in a nation-wide footprint to offer competitive financing structures that suit a variety of needs.   Structures are tailored to meet the unique needs of M&A financing, share repurchases, working capital, and real estate to name a few.
Chris is a graduate of Rockhurst University in Kansas City, MO, with a Bachelor of Arts Degree in Economics and received his Masters in Business Administration from St. Louis University with emphasis in finance.
Cam Koorangi
eCommerce Sales Manager, Encompass
Cam is an experienced and innovative mind in the alcohol industry, with a
Masters Degree in Systems Engineering and over 20 years of experience in
all three tiers of the industry. As eCommerce Sales Manager for
Encompass Technologies, Cam has worked with over 150 wholesalers
across the country, providing them with the technological solutions they
need to succeed. With a keen eye for leveraging new technologies to
improve complex systems, Cam has launched numerous solutions into
the market with the goal of improving the industry as a whole.
Bill Kraich
VP of eCommerce, Encompass
Bill Kraich is the VP of eCommerce at Encompass Technologies in Fort
Collins, CO and is taking charge of digitally connecting the three tiers. He
has worked in the beer industry for over 10 years, including roles in
distribution and professional services. He's a member of a number of
industry and state beer, wine, and liquor associations, and collaborates
regularly to generate forward-thinking ideas, promote the industry, and
network with peers.
Tommy Riley
Retail Insights VP of Growth, Encompass
Tommy Riley, the Vice President of Growth for Retail Insights, has
entrepreneurial roots as the co-founder of Handoff, an alcohol delivery
tech startup. Following Encompass' acquisition of Handoff in 2020, Tommy
transitioned seamlessly into his current role, spearheading the Retail
Insights program. Leveraging his industry knowledge and expertise in
connecting to retailers, Tommy has worked with many distributors to
harness point-of-sale data to equip their sales teams with invaluable
insights, revolutionizing their operations for enhanced efficiency and
decision-making.
Karen Kovtun
Ippolito Christon & Co., Senior Associate
Karen Kovtun is a Senior Associate with Ippolito Christon & Co.  Ippolito Christon has been providing valuation and transaction services to the beverage industry since 1986.  The firm has performed over 750 engagements nationwide for closely held beer, wine, and spirits distributors and soft drink companies and has been financial advisor in over 200 transactions.
Karen has been an associate of Ippolito Christon since 2006.  During this time, she has managed several M&A transactions and projects involving tax valuations, owner succession, debt and equity financing, litigation support, and brand transfers.
Prior to joining Ippolito Christon, Karen held senior analyst positions at Anheuser-Busch in the Wholesaler System Development group.  Her responsibilities at the company also included investment analysis in the Treasury Department and supporting senior management in Investor Relations.
Previously, Karen held positions as a Senior Financial Analyst at the May Department Stores and as a Sales Engineer for Rockwell Automation.
Karen earned a BS in Engineering from the University of Michigan and an MBA in Finance from Washington University in St. Louis.
Randy Jozwiakowski
Managing Director of Paragon Beverage Advisors, LLC
Randy  has spent over 20 years in the beer industry. Randy co-founded Paragon Beverage Advisors in 2015 with Mark Hall and has completed over $2 Billion in buy-side and sell-side beverage transactions in his career.  Prior to founding Paragon, Randy spent 16 years with an industry leading supplier in executive positions leading the Wholesaler Development group, as well as other strategy and operations management roles. In addition to his experience in mergers and acquisitions, Randy has extensive experience in finance and operations at the wholesale level, having managed those functions for a division with annual sales of $1.5 Billion.  He has also served as a member of the Board of Directors for Craft Brew Alliance (publicly traded company).
Randy has developed strong relationships with independent wholesaler owners/management, supplier executives, and financial institutions.  He has directed the development and implementation of numerous wholesaler strategies and initiatives, building trust and confidence along the way through thorough analysis, honest conversations, and creative problem solving. Randy is dedicated to understanding the strategic goals of clients and delivering results.
Randy lives in Kirkwood, MO with his wife. In his free time, he enjoys spending time with his 3 daughters.
Jonathan Jarrell
Director of Human Resources for Team Cone
Jonathan Jarrell, is the Director of Human Resources for Team Cone a full beverage distributor based in Ocala, FL. He is a Certified Speaker and Leadership Coach with the John Maxwell Company and a Certified Social & Emotional Intelligence Coach. Known by his friends as JJ he has used his influence in HR to focus on individual strengths while improving company performance.
Before joining Team Cone JJ's was titled as a Regional Director of HR for Performance Food Group and was responsible for an employee group of over 1800 people in 9 different states… This has taught him a few things about Leadership! As you will learn, JJ is a little different, he actually believes you can change the world by the way you lead.
Nick Kyratzis
Sales, VIP
Nick joined VIP's Distributor Sales team in 2015 and has been prospecting new customers ever since, including many who are attending the Users Conference today. In his free time, Nick enjoys traveling, playing and watching sports, and spending time outdoors no matter the season.
Carly West
Sales, VIP
Carly West joined VIP in 2014 and has been with the Distributor Sales team ever since. Carly has a wide range of industry knowledge and a passion for working with customers. What she enjoys most is helping customers maximize their use of VIP solutions to benefit their business. In her spare time, she enjoys spending time with her three kids and being active.
Brad Currier
Sales, VIP
Brad Currier has been on the VIP Sales team for ten years and has gained a wide range of beverage industry knowledge from working with both bottlers and distributors. Prior to VIP, Brad was in sales for the Denver Nuggets of the NBA. His kids Ryley (age 5) and Quinn (age 3) keep him busy in his spare time.
Craig Purser
President and CEO of NBWA
Craig Purser serves as the leading advocate for America's more than 3,000 independent beer & beverage distributors. In this role, Purser is responsible for the strategic development and tactical execution of the association's mission in the areas of government, public, industry and political affairs. He has led the charge to strengthen the three-tier system of beer distribution and state-based alcohol regulation.
Purser has been a consensus builder among industry partners, control advocates, public health activists and elected leaders.
Purser has been recognized by CEO Update as a Top Association CEO and as a Top Association Lobbyist by The Hill newspaper.
Purser serves as a trustee for the U. S. Capitol Historical Society and the Center for Alcohol Policy (CAP). He also serves as a member of the U.S. Chamber of Commerce's Association Committee of 100, the ASAE's Key Industry Association Committee (KIAC), the Association Executives Council of the National Association of Wholesaler-Distributors (NAW) and is the past Chair of the Bryce Harlow Foundation's Board of Governors.
A native of Oklahoma, Purser is a graduate of the University of Oklahoma. He and his wife, Gretchen, reside in Alexandria, Virginia, and have three children.
Paul Pisano
Senior Vice President, Industry Affairs and General Counsel of NBWA
Paul Pisano leads the association's efforts in industry, legal and state governmental affairs and serves as a liaison to state distributor associations and outside groups.
Prior to joining NBWA, he served at the Department of Commerce, most recently as director of congressional affairs at the U.S. Census Bureau. He also spent six years working in senior positions on Capitol Hill.
Pisano holds a B.A. degree from Hampden-Sydney College and earned his J.D. from Catholic University's Columbus School of Law.
Laurie Knight
Executive Vice President, Government Affairs of NBWA
Laurie Knight leads the association's lobbying team, directs the association's federal advocacy efforts and plays a key role in advancing the association's member-focused agenda on behalf of America's 3,000 independent beer distributors.
Prior to joining NBWA in 2013, Knight served as the senior vice president, government affairs for the Association of American Railroads. She also spent more than five years as the executive vice president of government affairs for the National Association of Broadcasters.
Before gaining significant experience in the communications and transportation industries, Knight served as Washington representative and director of government affairs at NBWA from 1999 through 2005.
As a veteran association executive, Knight has a proven track record in advancing advocacy agendas, building coalitions and navigating complicated policy challenges.
Knight also has served on Capitol Hill, having worked as legislative director for then Representative Jim Turner (TX). She also practiced law in Texas and is licensed in Texas and California.
Knight is a graduate of Pepperdine University School of Law and Southern Methodist University.
Lester Jones
Vice President, Analytics and Chief Economist of NBWA
Lester Jones tracks the economic factors that impact the beer distribution industry and alcohol policy decisions at the federal, state and local levels. He evaluates and develops primary industry data, including economic impact, tax impacts, sales and volume data.
Jones has more than 20 years of experience in research, survey methodology and applied economics. He previously served as chief economist at the Beer Institute, where he developed and executed significant research initiatives that helped shape America's beer industry.
Jones also has become a respected public speaker, offering in-depth technical, analytical and quantitative expertise.
In addition to his decade of work at the Beer Institute, Jones previously worked for Arbitron Company (Nielsen) in Columbia, Maryland, and the Regional Economic Studies Institute in Towson, Maryland. Jones holds a Master of Science in Economics from the University of Delaware as well as a Bachelor of Arts in Economics from the University of Maryland Baltimore County.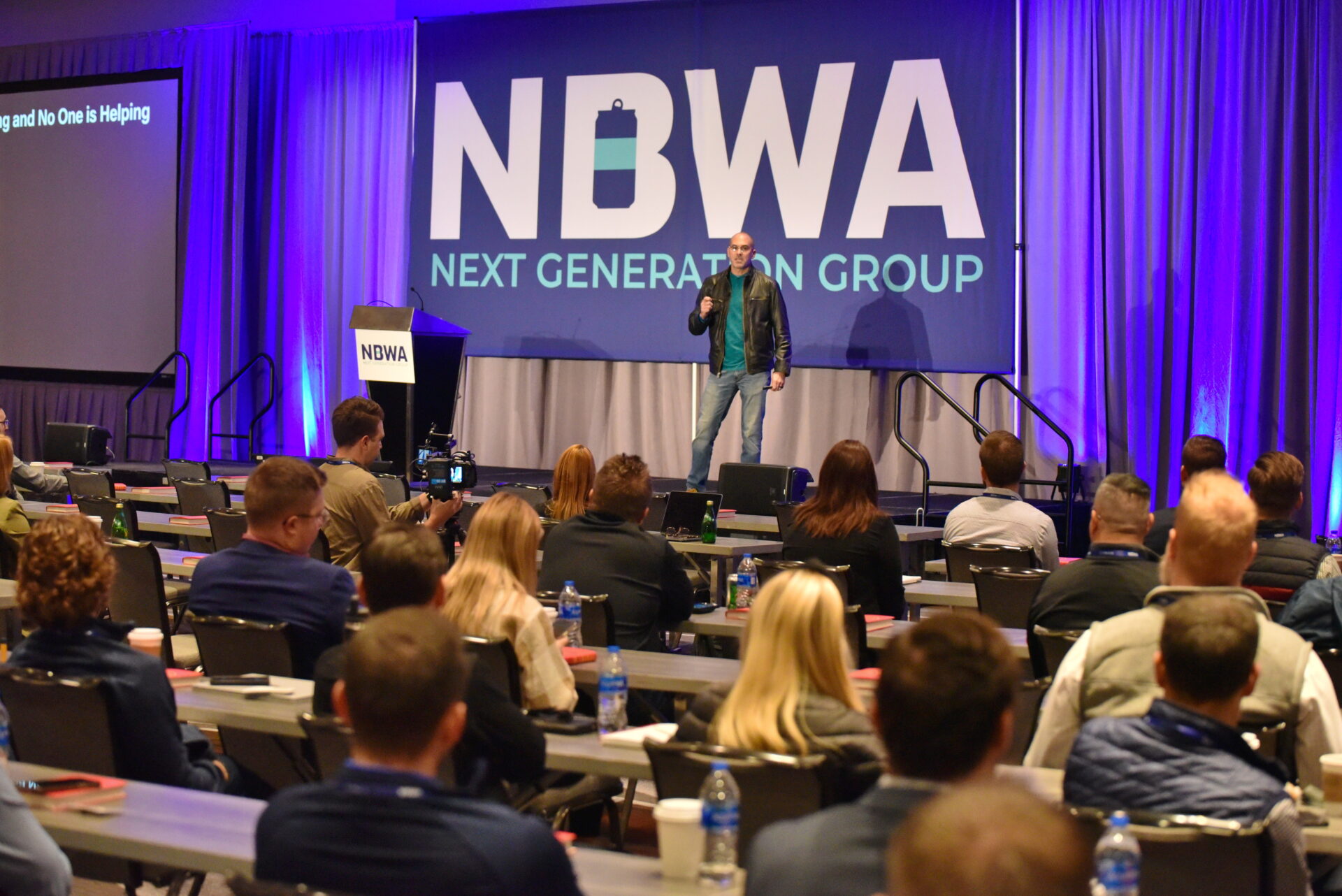 Over the two-day conference, attendees heard from NBWA leadership, inspirational business experts, industry veterans and their Next Gen peers – all while competing with one another for exciting prizes in the "Next Gen Games." General Session speakers included former CIA and FBI special agent Tracy Walder, business consultant Cari Coats, communications and public affairs strategist Erin Billings, and many more.
"Connecting with other emerging leaders across the country is an important way to build lasting relationships that will help guide the beer distribution industry into the future," said NBWA Senior Vice President and Chief Operating Officer Kim McKinnish. "As we write beer's next chapter, conference attendees will play an important role in ensuring the beer and beverage distribution industry continues to adapt while also championing the policies and practices that have made this great industry what it is today."

Join NBWA's Next Generation Group
NBWA's Next Generation Group brings together emerging leaders in the beer distribution industry. The group focuses on learning more about the beer business, getting more involved with the association and networking with other distributors from all areas of the country representing all brands. All NBWA distributor members, regardless of age, job title or relation to ownership, are eligible to join.
To be added to the email list to receive newsletters, member communications and information about upcoming events, click the button below!
Next Gen Sponsorship
Want to get your brand in front of the distribution leaders of today and tomorrow? Learn how to get involved by clicking the links below.