2023 Legislative Conference
April 24 – 26, 2023 | Washington, D.C.
Now's the time to make your voice heard and to share the story of why your business is essential to your community. During the conference programming, you'll learn the strategic skills you need to advocate for your business in legislator meetings, local warehouse tours and beyond. Plus, you will hear insider political analysis and gain a deeper understanding of how federal policies affect your business from our team of experts.

If your company has an active membership with NBWA and you have an individual account set up, your username will be your work email address. Scroll down to receive a login link via email. If you need assistance logging in or need an account set up please contact info@nbwa.org. 
Registration is now open!
The registration rate is $400 per attendee and complimentary for State Beer Distributor Executives, any additional state association attendees pay the registration fee.
To register, please use your NBWA membership account to log in:
Username: your work email address
Magic Link: To make logging in easy, we have generated a Magic Link that will grant you instant access to the site without the need for a password. Once you click on the link in sent to your work email address, you will be automatically logged into NBWA.org member section.
Please contact Jenna Sugg at jsugg@nbwa.org with any questions regarding registration.
BREW Leadership Forum
In addition, on the last day of the Legislative Conference on April 26th, the Building Relationships & Empowering Women (BREW) initiative will host a Leadership Forum.  You do not have to attend the Legislative Conference in order to attend the Leadership Forum. This event will inspire you to build relationships, connect to others with authenticity and become a positive change agent in your organization. Attendees will have the opportunity to develop career strategies and learn new skillsets. As BREW embarks on our acting stronger phase, attendees can embrace their power to be a domino to ignite progress in their organizations and the beer industry. Expect engaging speakers, interactive programming and networking training. You will be an integral part of the learning process!  However, space is limited for the event, so make sure to register as soon as possible! Register here.
2023 Agenda at a Glance
Monday, April 24
12:00 PM
Registration Desk Open
3:00 PM
Be Your Best Advocate Workshop
4:00 PM
Contracts and Beverage Expansion Workshop
6:00 PM
Toast to Washington Reception, Co-Hosted with Beer Institute
8:00 PM
Next Generation/Emerging Leaders Group Reception (By Invitation), Sponsored by Texas Capital Bank
Tuesday, April 25
7:00 AM
Registration Desk Open
8:00 AM
Distributor Member Meeting
10:30 AM
General Industry Session
2:00 PM
Capitol Hills Visits
5:00 PM
NBWA PAC Chairman's Circle Reception (By Invitation Only)
6:00 PM
Cheers: A Celebration of Beer & Food
Wednesday, April 26
8:00 AM
Registration Desk Open
8:00 AM
Next Generation/Emerging Leaders Breakfast
9:00 AM
Capitol Hill Visits
12:00 PM
BREW Leadership Forum
Craig Purser
NBWA President & CEO
Craig Purser serves as the leading advocate for America's more than 3,000 independent beer & beverage distributors. In this role, Purser is responsible for the strategic development and tactical execution of the association's mission in the areas of government, public, industry and political affairs. He has led the charge to strengthen the three-tier system of beer distribution and state-based alcohol regulation.
During his tenure at NBWA, Purser has been a consensus builder among industry partners, control advocates, public health activists and elected leaders. Under Purser's leadership, NBWA worked with a wide variety of stakeholders to help Congress pass the Sober Truth on Preventing (STOP) Underage Drinking Act. This meaningful legislation emphasizes the primary responsibility of the states to regulate alcohol as afforded them by the 21st Amendment, addresses health and safety issues related to underage drinking and authorizes grants to support innovative efforts.
Gordon Green
NBWA Board Chairman
Gordon Green currently serves as Chairman of the NBWA Board and has been a member of the board for over 13 years. He is the President-GM and Equity Manager of Capital Distributing in Oklahoma City, Oklahoma, and has worked with the company for nearly twenty years. Green has extensive experience in the beer distribution industry and the beverage space as a whole. He began his career in the beverage industry at the Gallo Wine Company in Southern California as a salesman and district manager. He went on to work at Pepsi-Cola Bottling Co for eight years, where he served in a sales and operations management role. Green then returned to the Chicago area where he grew up to work as a general sales manager at Courtesy Distributing before moving on to Coca-Cola Enterprises for four years. He spent a year in the Coors Brewing Company's General Manager Development program.
Anna Palmer
Founder & CEO of Punchbowl News, Former Co-Author of POLITICO Playbook
Widely respected for her unparalleled insights and analysis from the forefront of American politics, Anna Palmer is a trusted voice on the latest — and most accurate — news on congressional leadership, the lobbying industry, presidential campaigns, and the politics of governing for more than 15 years. She is the co-founder and CEO of Punchbowl News, a news community focused on power, people, and politics in Washington. Named after the Secret Service's nickname for the Capitol, the company covers congressional leadership and the White House, and tracks the industries and companies trying to influence them.
Brian Crawford
President & CEO of the Beer Institute
Brian Crawford joined the Beer Institute as its president and CEO in December 2022. Before joining the Beer Institute, Brian served as executive vice president of government affairs for the American Hotel and Lodging Association, where he led the association's advocacy efforts on Capitol Hill and with key administration policymakers and stakeholders on priority issues, including short-term rentals, workforce career development and technology and distribution. He also oversaw the lodging industry's largest political action committee, HotelPAC, ensuring that the association's political voice was strong and united by investing in federal candidates who support the industry.
Before working at AHLA, Brian spent years in the U.S. House of Representatives, having served five as chief of staff to U.S. Congressman Tom Rooney (FL-17). He previously served as the deputy chief of staff for Florida Congressman Ric Keller (FL-08) and held senior roles in other national trade associations.
John Bodnovich
Executive Director of America Beverage Licensees
John Bodnovich is Executive Director of American Beverage Licensees (ABL) and a leading advocate for America's beer, wine and spirits retailers.  He works closely with ABL's state and regional affiliates representing on- and off-premise beverage licensee members on matters of concern to beverage alcohol retailers.  His work includes managing ABL's federal government affairs portfolio, grassroots advocacy, and strategic communication efforts between ABL and its affiliates. John is ABL's primary representative to industry trade associations, alcohol suppliers, wholesalers and importers, as well as social responsibility organizations and other industry stakeholders.
Bob Pease
President & CEO of Brewers Association
Bob Pease is president & CEO of the Brewers Association, the national trade association representing small and independent American craft brewers. In his role, Pease is responsible for the strategic development and tactical execution of the association's mission in the areas of membership development, events, media relations, and government affairs. He has led the charge to strengthen the small brewer's voice in Washington, D.C.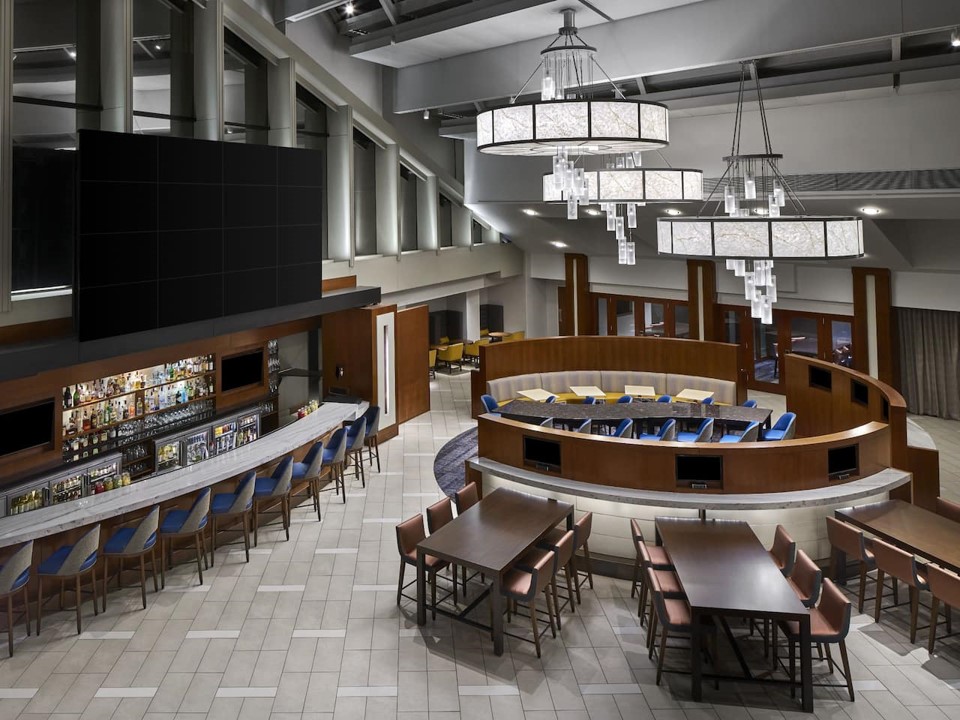 The Hyatt Regency Washington on Capitol Hill
The Hyatt Regency is currently sold out.  Attendees can call the hotel at (202) 737-1234 to check availability, but other hotels close to the Hyatt include:
Yotel – 202-638-1616
Hilton Washington DC Capitol Hill – 202-628-2100
Grand Hyatt – 202-582-1234
If you need help or have questions, please contact the team in the Membership and Meetings department, 800-300-6417 or email info@nbwa.org.

2023 Sponsorship Opportunities
Get added exposure and visibility at the conference with our sponsor packages!
2022 Legislative Conference Highlights
During his 2022 remarks, NBWA President and CEO Craig Purser reflected on the value the beer industry provided the country during the pandemic and the importance of coming together after the past two years. "Brewers, distributors and retailers worked overtime to ensure that Americans had some sense of normalcy during a very abnormal time. You proved you were essential. And I think we saw yet another demonstration of the value added by NBWA and state associations."
On April 3-6, 2022, over 500 independent beer distributors from across the country attended the NBWA's first in-person Legislative Conference since 2019. During the conference, beer distributors met with over 300 Capitol Hill offices to advocate on issues impacting the beer industry and their businesses, including the importance of the three-tier system, ongoing challenges related to workforce retention and recruitment as well as differentiation between types of alcohol.
Watch the 2022 Highlights
Cancellation and Refund Policy
NBWA must receive written notice of cancellations by email no later than March 31, 2023 to issue a 100% refund. From April 1 – 17, 2023, a $100 per person administrative fee will be assessed for all cancellation notices received in writing. After April 17, no refunds will be issued. Please email jsugg@nbwa.org for cancellation requests and include your order number in the subject line.