87th Annual Convention & Product Showcase
Sept. 29 – Oct. 2, 2024 | San Diego, CA
Held each year in the fall, the NBWA Annual Convention provides valuable education programs for the beer industry and introduces distributors to new products, technologies and vendors needed to run their operations. Don't miss the Product Showcase Floor — a one-stop-shop to learn about the next hottest beverages and what services will help your company grow. This year's show will feature over 200 companies showcasing new beer and beverages, exciting new technology and products that will help distributor companies save money!
---
Thank you to our 2023 sponsors!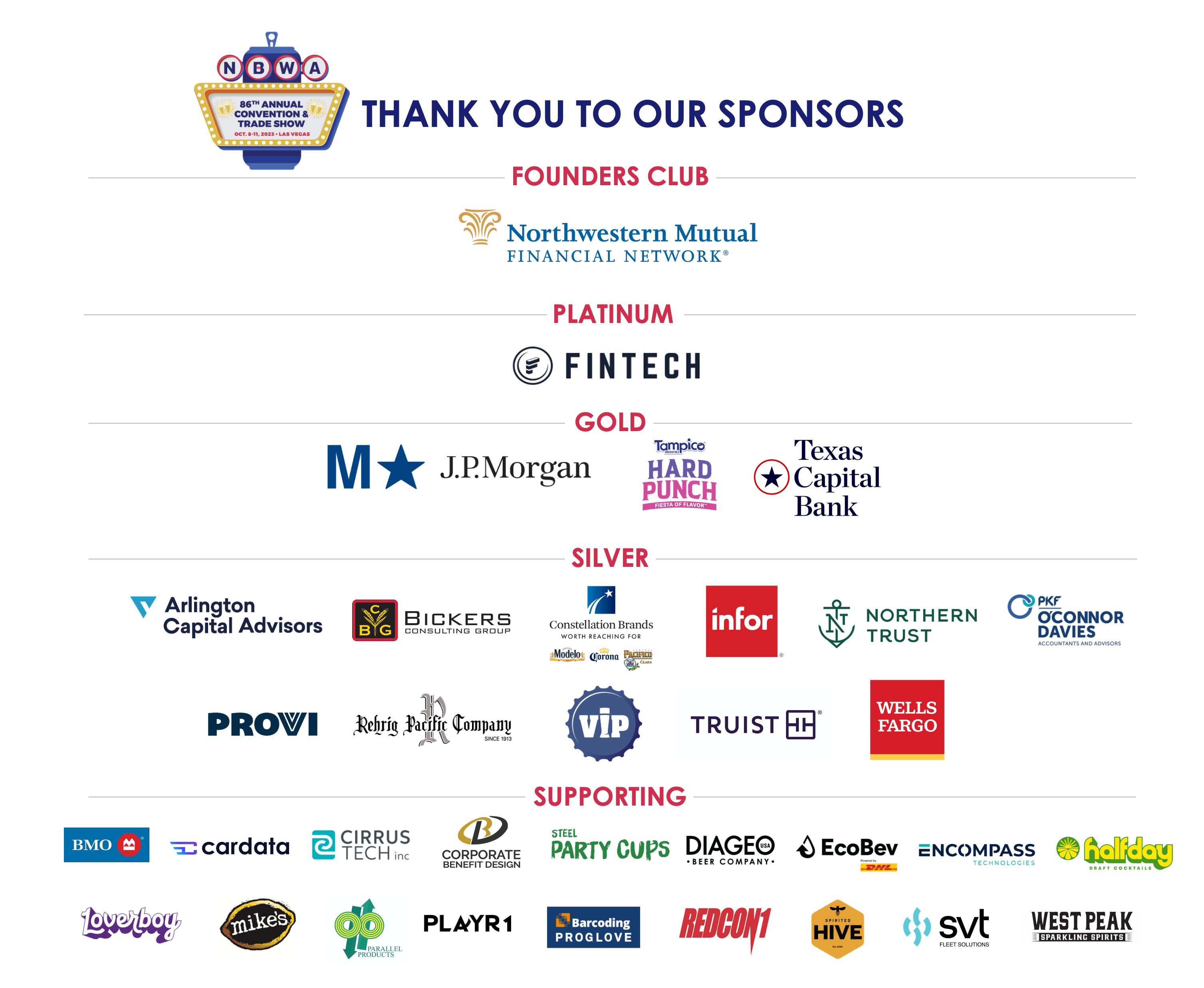 Raise a Glass to Our World-Class 2023 Speakers
Gavin Hattersley
President & CEO, Molson Coors Beverage Company
Kevin Johnson
Former NBA All-Star, Mayor of Sacramento, and owner of Oak Park Brewing Company
Jon Dorenbos
Former NFL Pro-Bowler and Professional Magician
Kristen Soltis Anderson
Political Polling Expert and Co-founder of Echelon Insights
Dan White
Chief of New Revenue Streams, Coca-Cola North America
Gordon Green
Chairman of NBWA Board, President-General Manager of Capital Distributing, LLC
James C. Fabiano II
Vice-Chairman of NBWA Board, CEO, Fabiano Brothers Inc.
Craig Purser
President and CEO of NBWA
2023 Annual Convention By The Numbers
150,000
Sq. ft of Trade Show Floor
212
Exhibitors of Breweries and Vendors
Nearly 3,000
Attendees Representing 50 States
Highlights!
86th Annual Convention & Trade Show
October 8 – 11, 2023 | Las Vegas, NV
Annual Convention Sponsorship
Want to get your brand in front of thousands of the country's most important distributor leaders? Learn how to get involved by clicking the link below.