86th Annual Convention & Trade Show
October 8 – 11, 2023 | Las Vegas, NV
Held each year in the fall, the NBWA Annual Convention provides valuable education programs for the beer industry and introduces distributors to new products, technologies and vendors needed to run their operations. Don't miss the Trade Show Floor — a one-stop-shop to learn about the next hottest beverages and what services will help your company grow. This year's show will feature over 180 companies showcasing new beer and beverages, exciting new technology and products that will help distributor companies save money!
---
Registration is now open!
World-class content, unparalleled networking and a whole lot of beer! The industry's biggest Trade Show for new products and fresh ideas is returning to Las Vegas and you won't want to miss the action. Don't forget our tiered registration packages — the more employees you register, the more you save!
Pricing:
Two total employees: 1st and 2nd employees are $749 each
Four total employees: the 3rd and 4th employees are $649 each
Five and more employees: the 5th, 6th, etc. employees are $599 each
Spouse/guests: $250 each
State Executives/Government Officials: $250
---
Cancellation and Refund Policy:
All requests for refunds must be made in writing to jsugg@nbwa.org.
A 100% refund will be made on registration cancellations received in writing by September 15, 2023.
A $100 administrative fee per person will be charged on registration cancellations received in writing September 16 through October 1, 2023.
No refunds will be made for registration fees after October 1, 2023.
Note from NBWA: If you are solicited by any party selling email lists for NBWA events or members, please be aware theses lists are fake and do not reflect any transfer of member information from NBWA. Please let us know of this activity by contacting info@nbwa.org.
---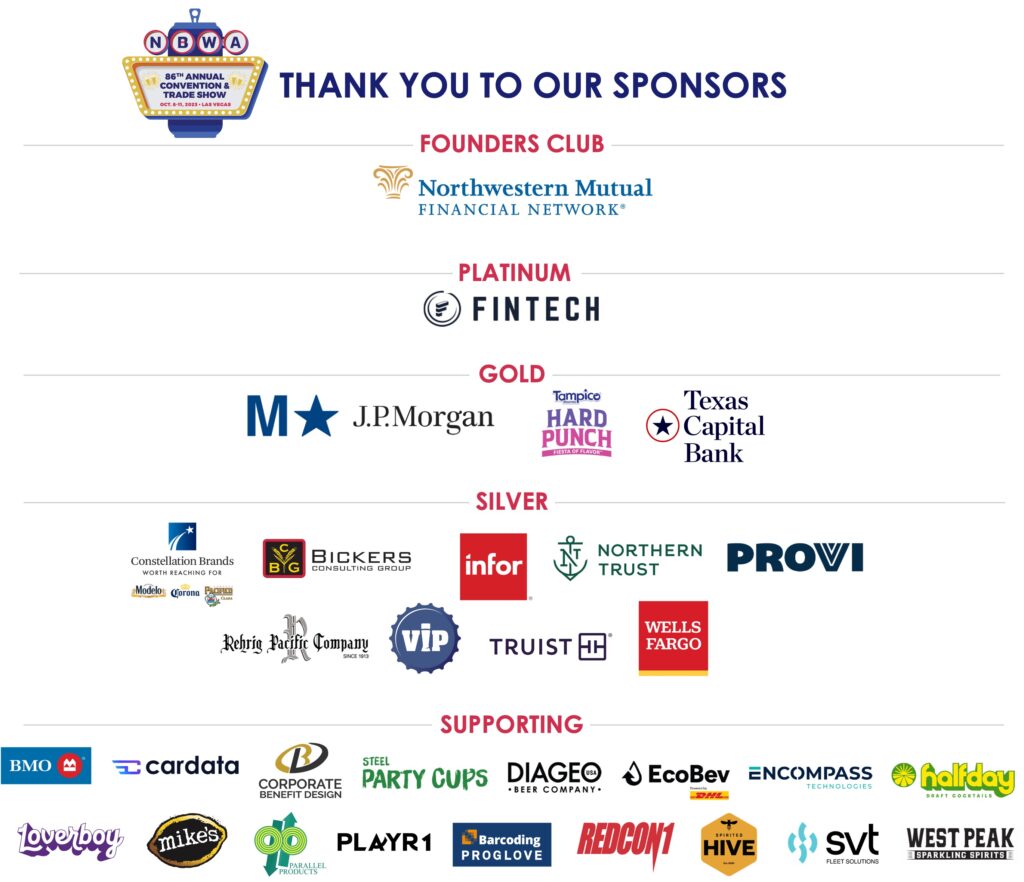 2023 Agenda at a Glance
In addition to the sold-out Trade Show floor, dynamic industry speakers, and opportunities to network with over 3,000 beer industry professionals, NBWA's Annual Convention features 20 educational seminars that help you enhance your business skills and see new possibilities for the road ahead.
Sunday, October 8
1:00 – 2:45 p.m.
Education Seminars
3:00 – 5:00 p.m.
Distributor Member Meeting
6:30 – 8:30 p.m.
Welcome Reception
Monday, October 9
8:00 – 9:15 a.m.
Education Seminars
9:30 – 12:00 p.m.
Opening General Session
12:00 – 4:30 p.m.
Trade Show Floor Open
Evening
Supplier Hospitalities
Tuesday, October 10
8:00 – 9:15 a.m.
Education Seminars
9:30 a.m. – 12:00 p.m.
General Session
12:00 – 4:30 p.m.
Trade Show Floor Open
6:00 – 7:00 p.m.
BREW and Alliance for Women in Beer Welcome Reception
Evening
Supplier Hospitalities
Wednesday, October 11
8:00 a.m. – 2:30 p.m.
BREW and Alliance for Women in Beer: Making Moves
Raise a Glass to Our World-Class Speakers
Gavin Hattersley
President & CEO, Molson Coors Beverage Company
Kevin Johnson
Former NBA All-Star, Mayor of Sacramento, and owner of Oak Park Brewing Company
Jon Dorenbos
Former NFL Pro-Bowler and Professional Magician
Kristen Soltis Anderson
Political Polling Expert and Co-founder of Echelon Insights
Dan White
Chief of New Revenue Streams, Coca-Cola North America
Gordon Green
Chairman of NBWA Board, President-General Manager of Capital Distributing, LLC
James C. Fabiano II
Vice-Chairman of NBWA Board, CEO, Fabiano Brothers Inc.
Craig Purser
President and CEO of NBWA
HOTEL INFORMATION

Caesars Palace Las Vegas | 3570 Las Vegas Blvd. South Las Vegas, NV
Discounted Group Rate: $237 plus taxes and resort fee per night
Room Block Closed on Monday September, 18 2023
All hotel reservations must be made directly through the hotel, do not book through third parties. Please be aware, the NBWA guest room block can sell out prior to the deadline. Once the block is sold out, discounted group rates cannot be guaranteed.
Connect With the Beer Distribution Community
2023 Trade Show
Join our Trade Show Floor to share your innovative products and services with over 1,800 beer industry leaders from across the country.
2023 Sponsor Opportunities
Get more exposure and visibility at the convention with our sponsor packages!
NBWA Convention and Trade Show By The Numbers
100,000
Sq. ft of Trade Show Floor
100+
Exhibitors of Breweries and Vendors
1,800
Attendees Representing 50 States
Highlights!
85th Annual Convention & Product Showcase
October 9 – 12, 2022 | Chicago, IL
2022 Convention Highlights