Hard Seltzers – Adding New Volume to the Industry in 2019.
When brewers introduce new brands and line extensions to the industry there is always the possibility these new brands will 'cannibalize" existing volume and result in a zero-sum game where total industry volumes do not grow overall. We have seen this pattern over the years as many legacy flagship brands, such as Budweiser, experience declining volumes while new brands, like Michelob Ultra, post significant volume gains. The rush to add more choices to the market frequently leads consumers to "test-drive" many of these new beverages at the expense of established brands. In a world where occasions and spending are limited or even fixed, the same number of occasions and spending must be spread across many more choices; resulting in fewer purchases of existing brands.
The 2019 summer season of hard seltzers appears to have bucked this trend for the U.S. beer industry and led to higher overall industry volumes.
Tracking Weekly Distributor Sales to Retailers.
Fintech InfoSource™ is a single source database of aggregated sales-to-retailer transactions for both the Off-Premise and On-Premise channels. The data cover over 130,000 chain and independent retail accounts with over $27 billion in alcohol purchase transactions and 670 million cases in 2018. The database includes sales to retailer data from approximately 3,600 alcohol beverage distributors from around the United States.
In the chart below, individual weekly case volumes for total beer sales to retailers are index to the average weekly volume across the calendar year. This chart shows the strong seasonal and holiday influences on beer volumes for the industry. For example, the first big sales week for beer distributors is Memorial Day (week 21), followed by Fourth of July (week 26) and ending Labor Day (week 34). During each of these "Beer Holidays" average case volume spikes around 40-50 percent above average weekly case volume for the calendar year. This is the basic heartbeat of the distributor-retailer business relationship as distributors build and deplete inventories from their brewer partners into their local retailers. It has been a good summer for selling beer in 2019. Between weeks 28 & 35 of 2019, the industry saw about a 5-point lift in average weekly volumes compared to 2018. In part due to a healthy economy, more consumer spending, favorable weather, and of course new products such as hard seltzers.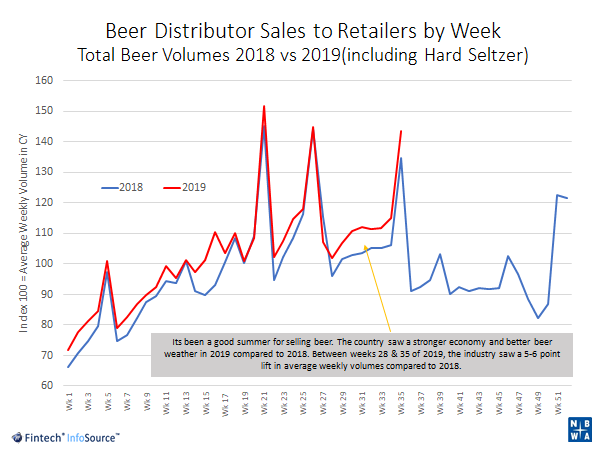 How did Hard Seltzers Change the industry trends?
During the first half of 2019, when we look at only hard seltzer volumes in the industry, volumes behaved pretty much the same way they did in 2018. However, after the July Fourth (week 26) rush to load beer into retail, seltzers took off on a radically new trend. Instead of falling volumes trending back to more seasonal average, distributors saw a dramatic and significant shift toward increasing demand for each new week through week 35. Surprisingly this major shift in trend following the Fourth of July holiday continued throughout the summer, with strong retailer/consumer demand rolling into the Labor Day Weekend.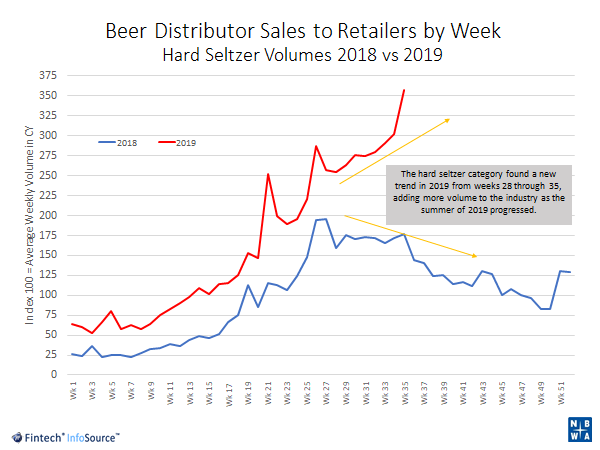 While the industry did benefit from an improving economy, lower gas prices and favorable weather, the impact of seltzers is evident in the hard seltzer segment and overall industry volumes.
Is this time different? Only time will tell.
Looking back on some historical data, there was once a hot new segment in the industry known as Hard Sodas. This category exploded on the scene in 2015-2017 and left many in the industry thinking this was a new segment with great potential and staying power. However, looking back on the trends, hard sodas never managed to buck any of the predictable and measurable patterns of seasonality. Today hard sodas are still available; however, they have settled down as a low share niche segment for the beer market in general.
This year's seltzer boom will certainly have many in the industry watching closely as the Fall and Winter beer holidays unfold. Hard Seltzer's post Labor Day performance will be a key indicator as to how this segment carves out a piece of the industry for itself, and how it will fit into the overall industry.