Press Release
Feb 27, 2023
NBWA releases February Beer Purchasers' Index
ALEXANDRIA, Va. – The National Beer Wholesalers Association (NBWA) released the Beer Purchasers' Index (BPI) for February 2023.
The February BPI shows a potential shift towards a more positive outlook for the beer industry in 2023. It's been ten months since the industry has seen an above-50 BPI and a below-50 ARI (at-risk inventory). For most of 2022, beer distributors were cautious with respect to their beer purchases. The industry recorded six out of twelve months with below 50 BPI index readings and above 50 ARI readings—indicating too much inventory in distributor warehouses. The February results reflect a BPI of 54 and an ARI of 46. After two disruptive years in 2021 and 2022, this is positive news for the beer industry.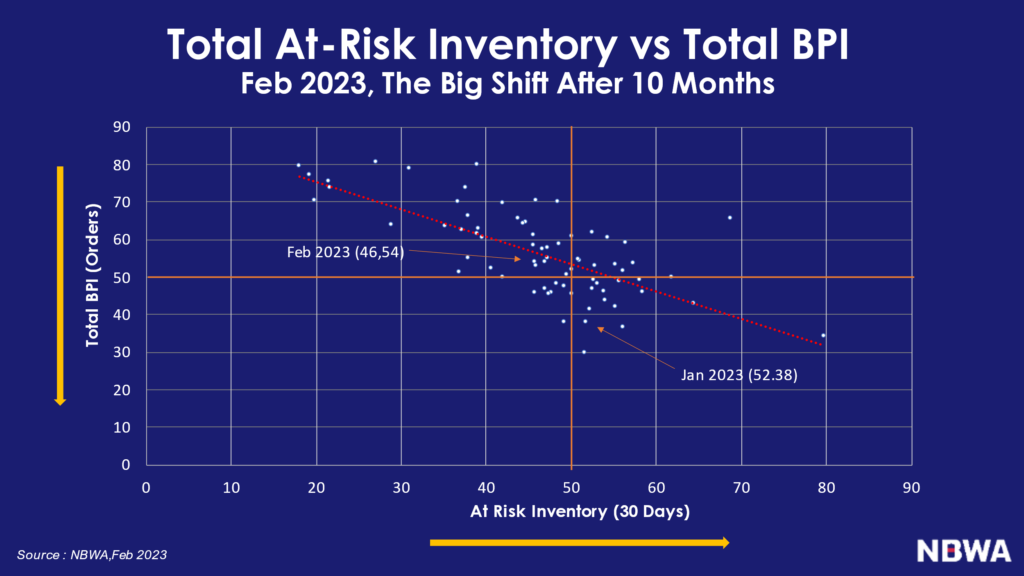 Looking across the segments for February:
The index for imports continues to point to expanding volumes, with a reading of 62 in February, lower than the February 2022 reading of 69.
The craft index sits at 34, well below the February 2022 reading of 51 but showing some recovery from recent historical low readings.
The premium lights index posted a reading of 46, in line with the February 2022 reading of 46.
The premium regular segment index is 41, now above the February 2022 reading of 32.
The below premium segment is well ahead of the February 2022 reading of 30 and is now 53, joining the import segment in expanding (above 50) territory.
The FMB/seltzer segment also shows some signs of recovery, rising to 40 in February 2022 from 34 in February 2022.
Finally, the cider segment posted a February reading of 30 compared to 33 in February 2022.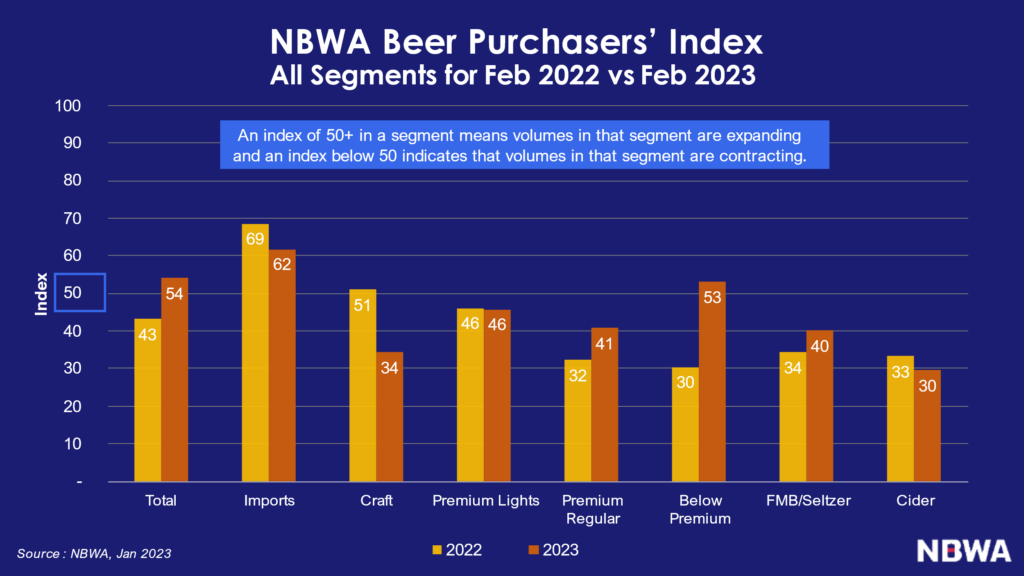 ###
The National Beer Wholesalers Association (NBWA) represents America's 3,000 independent beer distributors who service every state, congressional district and media market across the country. Licensed at the federal and state levels, beer distributors get bottles, cans, cases and kegs from a brewer or importer to stores, restaurants and other licensed retail accounts through a transparent and accountable regulatory system. Distributors build brands of all sizes – from familiar domestic beers to new startup labels and imports from around the world – and generate enormous consumer choice while supporting more than 140,000 quality jobs in their home communities. Beer distributors work locally to keep communities safe by sponsoring programs to promote responsible consumption, combat drunk driving and reduce underage drinking.