Press Release
Jan 05, 2021
NBWA Releases December Beer Purchasers' Index
ALEXANDRIA, Va. – Today, the National Beer Wholesalers Association (NBWA) released the Beer Purchasers' Index (BPI) for December 2020. After dramatic changes in beer purchasing throughout the year, the December data shows a more moderate reading.
The total Beer Purchasers' Index for December 2020 is at 64, only a few points above December 2019 at 61.
The "at-risk inventory" (inventory at risk of going out of code in the next 30 days) measure continues to remain relatively low among all the segments, with total beer at 29 compared to 52 in December 2019.
NBWA Chief Economist Lester Jones explained, "Overall, the slightly lower demand from beer purchases is expected heading into the new year. However, with low inventories, there is still a need to replenish stock."
BPI is the only forward-looking indicator for distributors to measure expected beer demand. The index surveys beer distributors' purchases across different segments and compares them to previous years. A reading greater than 50 indicates the segment is expanding, while a reading below 50 indicates the segment is contracting.
Looking across the segments for December:
The index for imports remains in expansion territory with a reading of 61 in December 2020, well above the 55 reading from December 2019.
The craft index dropped to 44 in December 2020, breaking a four-month streak of above-50 readings in 2020. This month's index is six points below the December 2019 reading of 50.
Premium lights continue to post significantly higher readings, with December 2020 at 60 compared to 32 in December 2019. This is the eighth consecutive month of above-50 readings for this segment.
Regular domestic premiums also declined from historically high readings to hit a reading of 50 in December 2020 relative to 18 in December 2019.
Below premium beers continue their rapid decline into the end of the year. This segment has declined each month after peaking at 70 in May 2020 and now sits at 42 for December 2020.
The FMB/seltzer segment continues to outperform all other segments, posting an index of 80 compared to 71 in December of 2019. However, the December index of 80 is the lowest reading this segment has posted in 2020.
Finally, the cider segment showed some improvement, rising to 39 in December 2020 from 34 in December 2019.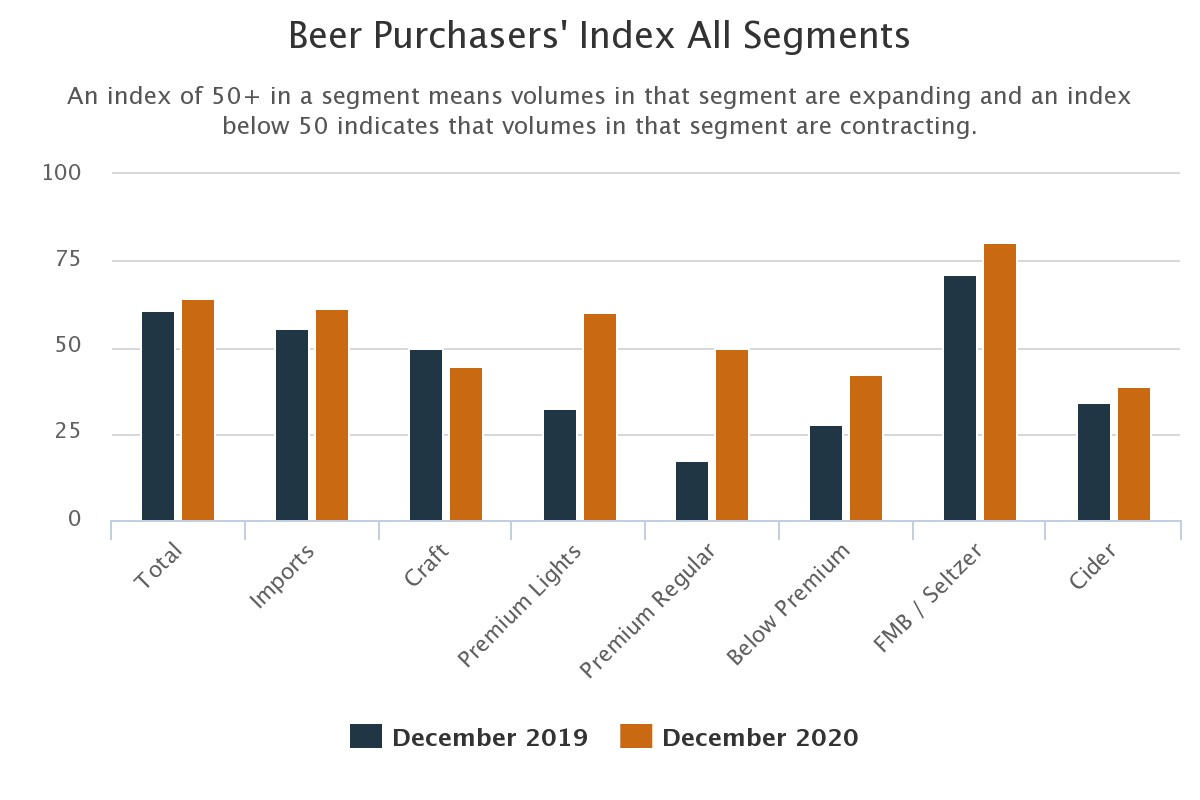 The National Beer Wholesalers Association (NBWA) represents America's 3,000 independent beer distributors who service every state, congressional district and media market across the country. Licensed at the federal and state levels, beer distributors get bottles, cans, cases and kegs from a brewer or importer to stores, restaurants and other licensed retail accounts through a transparent and accountable regulatory system. Distributors build brands of all sizes – from familiar domestic beers to new startup labels and imports from around the world – and generate enormous consumer choice while supporting more than 140,000 quality jobs in their home communities. Beer distributors work locally to keep communities safe by sponsoring programs to promote responsible consumption, combat drunk driving and reduce underage drinking.