Press Release
Feb 04, 2020
NBWA Releases Beer Purchasers' Index for January 2020
ALEXANDRIA, Va. — Today, the National Beer Wholesalers Association (NBWA) released the Beer Purchasers' Index (BPI) for January 2020.
The index surveys beer distributors' purchases across different segments and compares them to previous years. A reading greater than 50 indicates the segment is expanding, while a reading below 50 indicates the segment is contracting.
The total beer index for January 2020 rose to 66 from 55 in January 2019. This is the highest January reading ever posted during the six years of the survey. In addition, the "at-risk inventory" index for total beer index dropped to 43 and has remained below the 50-mark for the past eight months. Together these results indicate a strong start to 2020 for the U.S. beer industry.
Looking across the segments: ​
The rush to bring new seltzer brands to market pushed the FMB/seltzer segment to a high mark of 91 for January 2020 relative to 66 in January 2019.
The craft index fell to a low of 45, a full 10 points lower than the January 2019 reading of 55. The craft segment bounced around the critical 50 mark for most of 2019 and is starting the new year at new low point.
The index for imports were in line with last January's reading of 64, remaining in expansion territory.
Premium lights, premium regulars and below premiums all posted decreases over last year's readings. All three domestic segments continue to struggle with below 50 index readings.
The cider segment fell to 42 from 52 for the month. Cider orders continue to contract from peak readings in late 2018. This series will continue to play out as regional cider brands compete aggressively against larger national cider brands.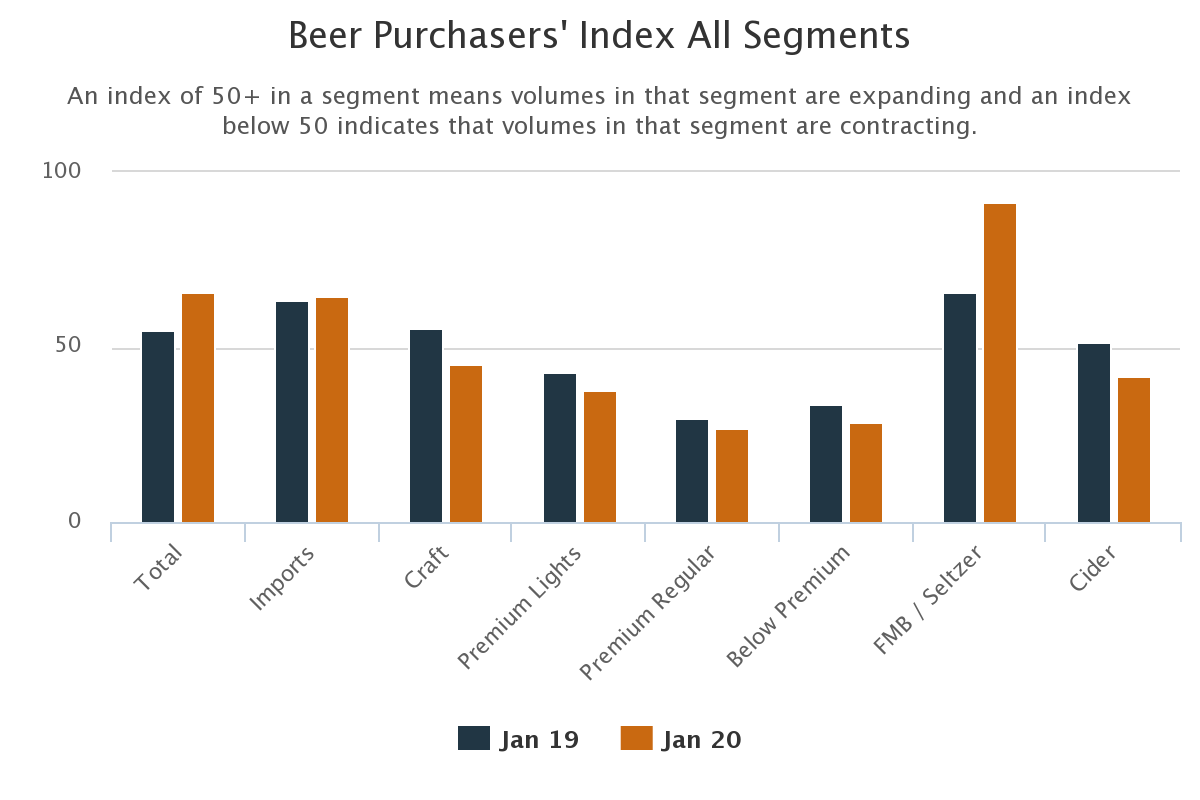 The February 2020 BPI survey will run from February 10th through February 21st.