Press Release
Mar 03, 2022
Maine Beer Distributors Present Contribution to Travis Mills Foundation
Travis Mills' keynote inspired members of the National Beer Wholesalers Association (NBWA) at the organization's 84th Annual Convention & Trade Show.
ALEXANDRIA, Va. – Tom Kilbride, General Manager of Pine State Beverage Co. and the Maine Director of the National Beer Wholesalers Association (NBWA), and Cheryl Timberlake of the Maine Beer & Wine Distributors Association, presented a $5,000 contribution to the Travis Mills Foundation, on behalf of the NBWA. The Travis Mills Foundation supports recalibrated veterans and their families through various programs that help these heroic men and women overcome physical and emotional obstacles, strengthen their families and provide well-deserved rest and relaxation. The foundation runs a nationally recognized retreat in the Belgrade Lakes Region of Maine, where veterans who have been injured in active duty receive an all-inclusive, all-expenses-paid, barrier-free vacation.
Mills resides in Maine, and as such, the foundation is particularly important to Maine's distributors. "Maine's beer distributors are honored to support a cause so close to home. The foundation's retreat provides veterans and their families access to Maine's scenic views while they relax and enjoy time off in a supportive environment," Kilbride said.
At NBWA's 84th Annual Convention & Trade Show, Mills spoke about the challenges he faced as a veteran; he was critically injured in 2012 on his third tour of duty in Afghanistan by an IED (improvised explosive device). As a result of the blast, Travis suffered the loss of both arms and legs. It would have been easy to give up. Instead, Travis entered a grueling rehabilitation program and committed himself to recovery and fatherhood. During the event's General Session, Mills said, "life's all about perspective, I think we can all agree on that, and my perspective doesn't change. I'm so fortunate to be here… as bad as I may look, I realize how fortunate I am to still be here… I keep pushing forward." His story resonated with the members of NBWA and inspired the group to pledge funding to this vital cause.
"Travis' motto, 'Never give up. Never quit,' should be an inspiration to beer distributors everywhere. You can overcome any challenge in life, no matter the scope, with resilience and a sense of humor," said NBWA President & CEO Craig Purser. "NBWA and its members are proud to support veterans across the country and the mission of the Travis Mills Foundation."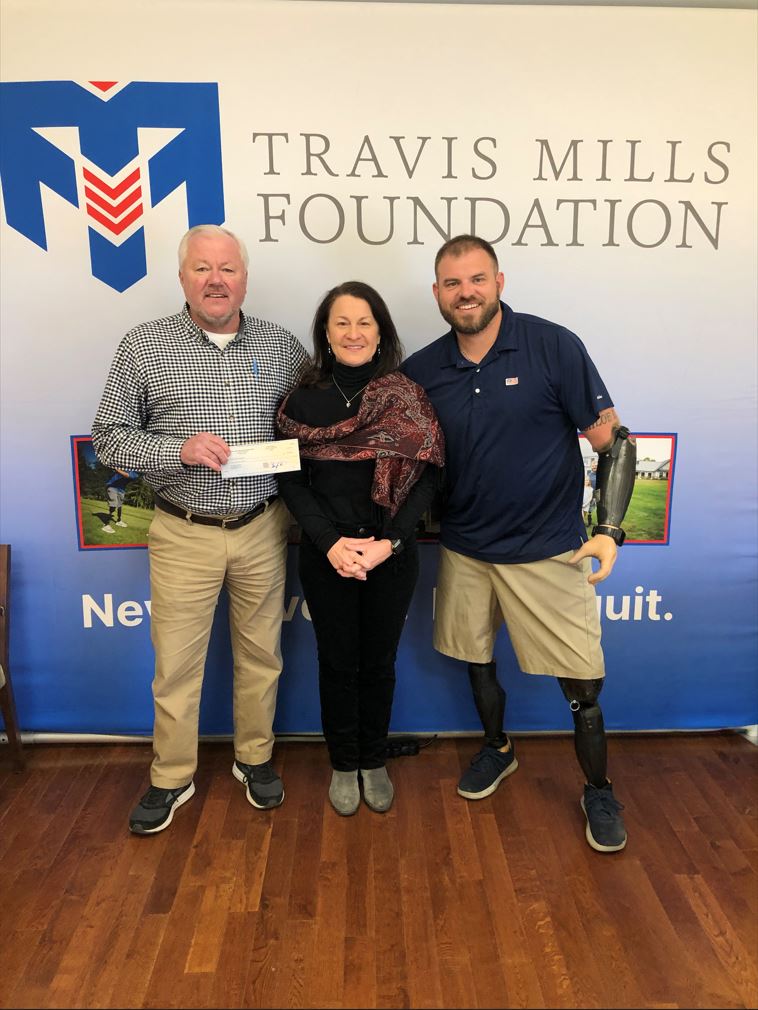 The National Beer Wholesalers Association (NBWA) represents America's 3,000 independent beer distributors who service every state, congressional district and media market across the country. Licensed at the federal and state levels, beer distributors get bottles, cans, cases and kegs from a brewer or importer to stores, restaurants and other licensed retail accounts through a transparent and accountable regulatory system. Distributors build brands of all sizes – from familiar domestic beers to new startup labels and imports from around the world – and generate enormous consumer choice while supporting more than 140,000 quality jobs in their home communities. Beer distributors work locally to keep communities safe by sponsoring programs to promote responsible consumption, combat drunk driving and reduce underage drinking.