Press Release
Nov 14, 2019
Brewers and Distributors Kickoff Charitable Beer Collaboration, Beer 4 Good
Partnership aims to raise $50,000 for Mission: St. Louis, building on success of last year's Women Who Whisky™ collaboration
ST. LOUIS (November 13, 2019) – Today, Major Brands, 4 Hands Brewing Co. and Urban Chestnut Brewing Co. kicked off the season of giving with the announcement of their first-of-its-kind charitable beer collaboration, Beer 4 Good, to benefit local nonprofit Mission: St. Louis.
The Beer 4 Good partnership builds upon last year's groundbreaking Women Who Whisky™, a collaboration led by Sue McCollum, Major Brands chairman and CEO, that brought together seven St. Louis-based female business, civic and nonprofit leaders to create a limited-edition Maker's Mark Private Select Bourbon aged in a custom-made barrel, the sales of which raised more than $300,000 for four St. Louis nonprofits.
"We are proud of the success we saw with last year's Women Who Whisky collaboration, which supported four St. Louis-area nonprofits with the first limited-edition bourbon in a barrel aging process created by all women. With such a unique barrel in both flavor and history, we knew we wanted to pass it forward to continue giving back to our community," said McCollum, who leads the largest woman-operated and owned wine and spirits distributor in the U.S. "We approached Urban Chestnut and 4 Hands Brewing Co. to help us create Beer 4 Good because of their dedication to the St. Louis region. Together, we created a unique brew that's infused with our combined passion for moving the region forward."
Beer 4 Good is a blend of two ales – an English Barleywine created by Urban Chestnut Brewing Co. and an Imperial Milk Stout created by 4 Hands Brewing Co. – that has been aged for more than a year in the custom Makers Mark 46 barrel that McCollum and the team behind Women Who Whisky created. The result is a rich and decadent brew with notes of bourbon, chocolate, sweet caramel, and vanilla.
"From our inception we have always aimed to be much more than a brewery, but a pillar of our community," said Kevin Lemp, president and CEO of 4 Hands Brewing Co. "Beer 4 Good is another opportunity for us to work in collaboration with amazing local St. Louis organizations to better our community. We have had the pleasure of working with the team at Mission: St. Louis over the last few years. We can't wait to see the results from Beer 4 Good."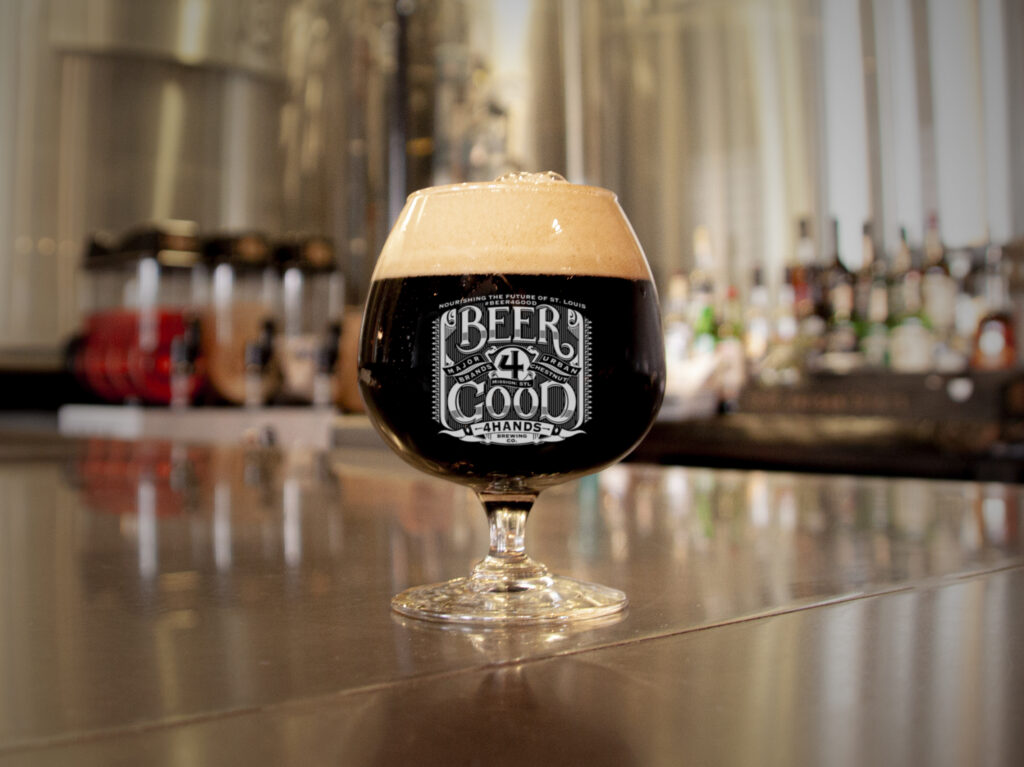 The group will unveil the limited-edition stout barley wine hybrid ale at a celebratory "Tap the Barrel" event on Thursday, Dec. 12 at 6 p.m. at 4 Hands Brewing Co. Taproom, with all event proceeds going to Mission: St. Louis to help empower families to break the cycle of poverty. Through the "Tap the Barrel" event and sales of the Beer 4 Good ale, the group hopes to raise $50,000 for the local nonprofit. To reserve a bottle and secure tickets for the event, visit Beer4GoodSTL.org.
"St. Louis has a history of making great beer, and a history of making a difference. Urban Chestnut is proud to be a part of the Beer 4 Good collaboration, coming together with other amazing St. Louis organizations to help give back and create a better future for our city," said David Wolfe, co-founder, Urban Chestnut Brewing Co. "We can't wait to see how St. Louis rallies around this effort, and we look forward to celebrating with the community as we tap the barrel in December."
Both STLMade breweries have been longtime supporters of Mission: St. Louis. In addition to donating proceeds from its 2019 City Wide American Pale Ale to Mission: St. Louis, 4 Hands Brewing Co. has participated in the nonprofit's JLT Internship Program, with one of the participants joining the 4 Hands Brewing Co. team permanently. Since opening its Grove Brewery, Urban Chestnut has also employed and supported individuals and families of Mission: St. Louis.
"St. Louis is a place full of opportunity, and at Mission: St. Louis we're working to help local families find these opportunities to transform their lives. The Beer 4 Good partnership will provide us with valuable funding to empower even more St. Louis families to break through the cycle of poverty through education, job training and employment," Said Josh Wilson, president and executive director of Mission: St. Louis. "We are so excited to be a part of this groundbreaking partnership, which will allow us to help the St. Louis region become even stronger."
Donor and event sponsorship opportunities start at $250, which includes one bottle of Beer 4 Good ale and two event tickets. To learn more about donor opportunities and to reserve a bottle of the limited-edition ale, visit: Beer4GoodSTL.org.
About Major Brands
Major Brands, Inc. is the largest Missouri-owned and operated distributor of premium wine, spirits, beer and non-alcoholic beverages, with offices in St. Louis, Kansas City, Springfield, Columbia and Cape Girardeau. Major Brands, Inc. employs more than 600 people and serves more than 9,000 retail customers. It began operations in 1934 and remains family-owned and operated. For more information visit, majorbrands.com.
About 4 Hands Brewing Co.
4 Hands Brewing Company (www.4handsbrewery.com) is a craft brewery located in the La Salle Park neighborhood of St. Louis, MO. With a 20,000-square-foot brewing facility and over 3,000 square feet of barrel aging space, 4 Hands Brewing Company is one of the fastest growing breweries in the region. 4 Hands Brewing Company focuses on providing a well-rounded portfolio of creative seasonal and staple brews, including its City Wide American Pale Ale.
About Urban Chestnut Brewing Company
Urban Chestnut Brewing Company (UCBC) is an unconventional-minded yet tradition-oriented brewer of craft beer. Founded in 2010, Urban Chestnut operates three breweries in St. Louis; creating high-quality offerings of lagers & ales, while also striving to be respected for its actions as a business member of the St. Louis community. Urban Chestnut calls these actions "Urban Efforts" – intentional measures undertaken by UCBC to be a better global and local citizen. These efforts span from the sustainability methods UCBC employs during the brewing process to a concerted emphasis in aiding local not-for-profit organizations to reach their goals.
About Mission: St. Louis
Mission: St. Louis- Located on North Grand Boulevard, this non-profit organization works to address systemic, deeply-rooted issues of poverty in the St. Louis region through its core programs focused on education, employment and other important community-focused initiatives.
About STLMade
STLMade is a movement within the St. Louis area that shines a light on the stories of our innovative, tenacious, big-hearted people. It represents the voices of our residents, leaders, institutions, businesses, and nonprofits committed to creating opportunities for all. Collectively, it's a celebration of a region that insists on moving forward by bringing people and ideas together in bold ways, making this a place where you can start something, get the support to stand out, and stay here to do it all. Meet the STLMade people who make the region stronger at theSTL.com and follow it on social.