Press Release
Jan 31, 2019
America's Beer Distributors Deliver Choice, Variety, Ahead of Super Bowl LIII
Alexandria, Va. – As Americans prepare to watch the Los Angeles Rams face off against the New England Patriots in Super Bowl LIII, the 135,000 hardworking men and women who make up America's beer distribution industry are working in overdrive to deliver unparalleled beer choice and variety to shelves and taps across the country.
"As the countdown to Sunday's big game begins, America's independent beer distribution employees are working to ensure consumers have access to the abundant choice and variety that is available in today's wide-ranging marketplace," said National Beer Wholesalers Association (NBWA) President & CEO Craig Purser.
According to NBWA Chief Economist Lester Jones, the weeks leading up to the Super Bowl are consistently a busy time for beer distributors around the country.
"The Super Bowl marks the first big occasion for beer distributors in 2019 and helps set the stage for the upcoming year," said Jones. "Around the country, the industry's men and women will be delivering tens of millions of cases of beer to licensed alcoholic beverage retailers throughout the nation in preparation for Sunday's big game."
According to NBWA and Fintech®, a leading solutions provider for beverage alcohol management, prior sales are a good indication of what to expect this year. In 2018, the Super Bowl teams' hometown metro areas posted strong beer performance during the week running up to the game. Using sales to retailer data provided by Fintech's InfoSource™, in 2018 the Boston metro area saw a 19 percent increase in sales across on- and off-premise establishments. The Philadelphia metro saw a jump in sales of 17 percent. Bars, taverns and restaurants in both markets saw almost a 10 percent increase in volumes.
The table below ranks weekly sales against the annual average for each year.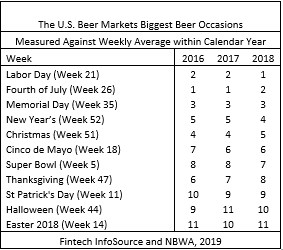 As with all holidays, NBWA encourages responsible consumption for legal drinking age consumers before, during and after the big game.