Press Release
Jul 01, 2020
America's Beer Distributors Deliver Choice, Variety Ahead of July 4th
Independence Day busiest holiday for beer industry
ALEXANDRIA, Va. – Today, the National Beer Wholesalers Association toasted the more than 140,000 beer distribution employees across the United States, who are working hard to ensure Americans have access to fresh, quality beer this Fourth of July. For the industry, including brewers, distributors and retailers, Independence Day marks the height of the summer beer-selling season — with distributors often delivering double the beer of a typical week.
"This July 4th, as the country continues to cautiously reopen, beer distributors are working overtime to ensure that beer is stocked for thirsty consumers celebrating the holiday," said Craig Purser, NBWA president and CEO. "Throughout the pandemic, beer distributors have continued to deliver choice and value. We remain committed to delivering the highest quality beer to each corner of this great nation, safely and responsibly."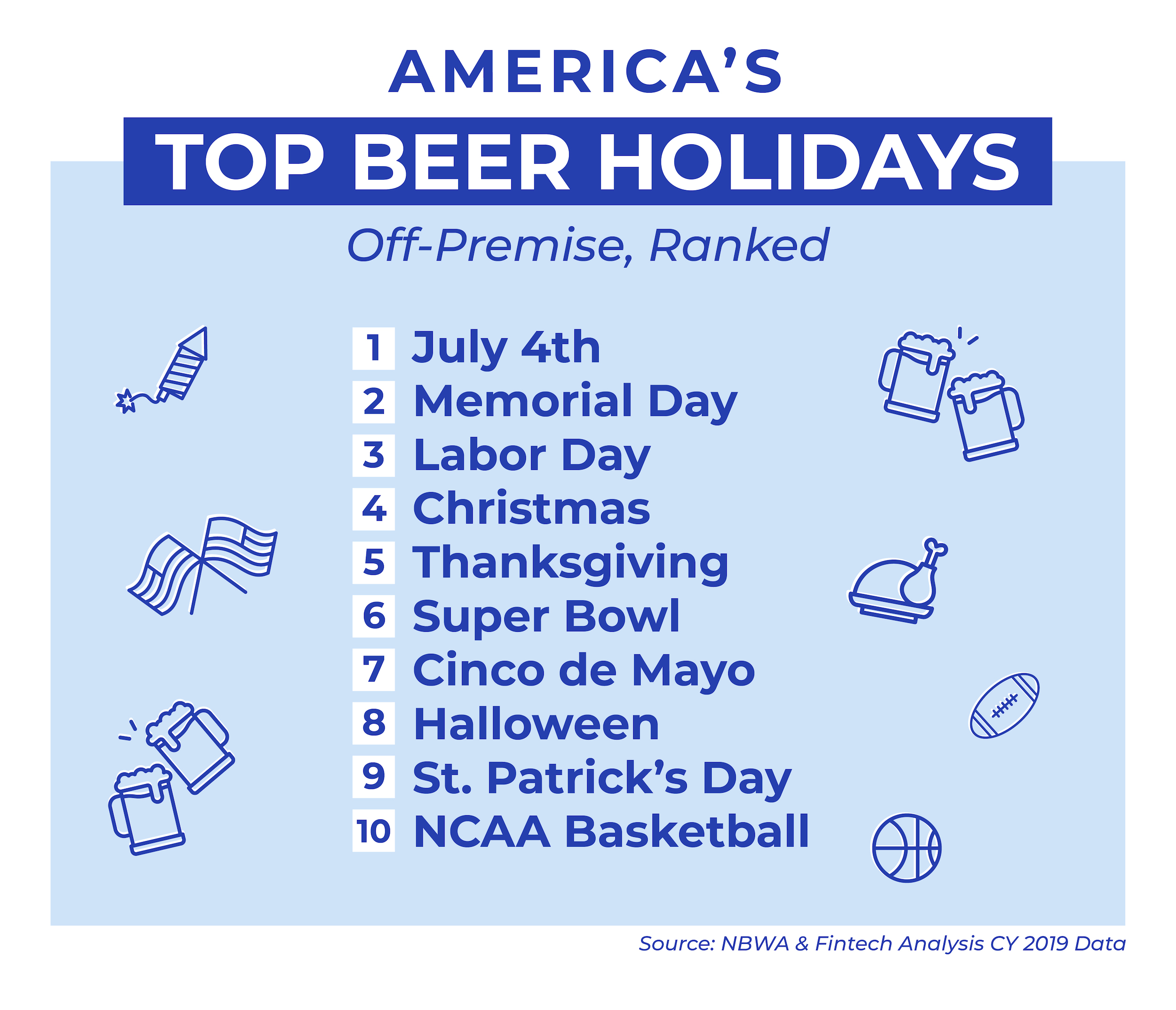 According to data analyzed by NBWA and Fintech, a leading business solutions provider for beverage alcohol management, the week leading up to July 4th ranked number one across all on- and off-premise sales channels, making it the biggest beer occasion of the year in front of Memorial Day and Labor Day in second and third, respectively.
"Now more than ever, our communities need to come together — safely and responsibly — and nothing brings people together more than an ice-cold beer," said Purser. "NBWA wishes all Americans a very happy Fourth of July, and we raise a toast to those working to ensure we have plenty of beer on shelves and in taps this weekend across the country."
About NBWA: The National Beer Wholesalers Association (NBWA) represents America's 3,000 independent beer distributors with operations in every state, congressional district and media market across the country. Licensed at the federal and state levels, beer distributors get bottles, cans, cases and kegs from a brewer or importer to stores, restaurants and other licensed retail accounts through a transparent and accountable regulatory system. Distributors build brands of all sizes – from familiar domestic beers to new startup labels and imports from around the world – and generate enormous consumer choice while supporting 142,000 quality jobs in their home communities. Beer distributors work locally to keep communities safe by sponsoring programs to promote responsible consumption, combat drunk driving and work to eliminate underage drinking.
About Fintech: Fintech is the leading business solutions provider for the beverage alcohol industry, empowering alcohol suppliers, distributors, and retailers with smart solutions that simplify beverage alcohol management. From product ordering and invoice payments, to sales strategy, business intelligence, and industry insights, Fintech continues to lead the development of technologies that increase margins and maximize operating efficiencies for anyone who sells alcohol. With decades of industry experience and unwavering dependability, Fintech connects over 600,000 business relationships nationwide. To learn more, visit www.fintech.com.