Press Release
Jul 28, 2022
NBWA Releases July Beer Purchasers' Index
ALEXANDRIA, Va. – The National Beer Wholesalers Association (NBWA) released the Beer Purchasers' Index (BPI) for July 2022.
The July 2022 BPI results show the total beer index at 46 and "at-risk" inventory at 46. A repeat of June results signals a break after the 50+ readings experienced previously this year. Continued inflationary pressures, extreme heat and a slowing economy bring the industry to a second month of pause after five months of positive ordering trends. The July 2022 results show a shift to a more cautious sentiment for distributor. However, leaner inventories, reflected in the below 50 "at-risk" inventory measure, are a positive signal for the industry as it manages through unprecedented heat waves, price increases, uncertainty around consumer demand and the general economy.
About NBWA's Beer Purchasers' Index: BPI is the only forward-looking indicator for distributors to measure expected beer demand. The index surveys beer distributors' purchases across different segments and compares them to previous years. A reading greater than 50 indicates the segment is expanding, while a reading below 50 indicates the segment is contracting.
Looking across the segments for July:
The imports index stands as the only beer segment in expansion territory with a reading of 67 in July 2022, about the same reading as the July 2021 reading of 66.
The craft index at 32 is well below the July 2021 reading of 50. Craft continues to struggle as on-premise retailers are not rebuilding draft beer with the same number of tap handles as before.
The premium lights index posted a reading of 45, below the July 2021 reading of 56. However, it is more in line with recent 2022 trends.
The premium regular segment index is at 36, below the July 2021 reading of 40.
The below premium segment is at 52, which is significantly higher than the July 2021 reading of 30. For a second month, this is the only segment to see an increase year-over-year.
The FMB/seltzer index took another big hit, falling to 28 in July 2022 from the July 2021 reading of 69.
Finally, the cider segment remains below 50, with the July 2022 results at 29 compared to July 2021's reading of 38.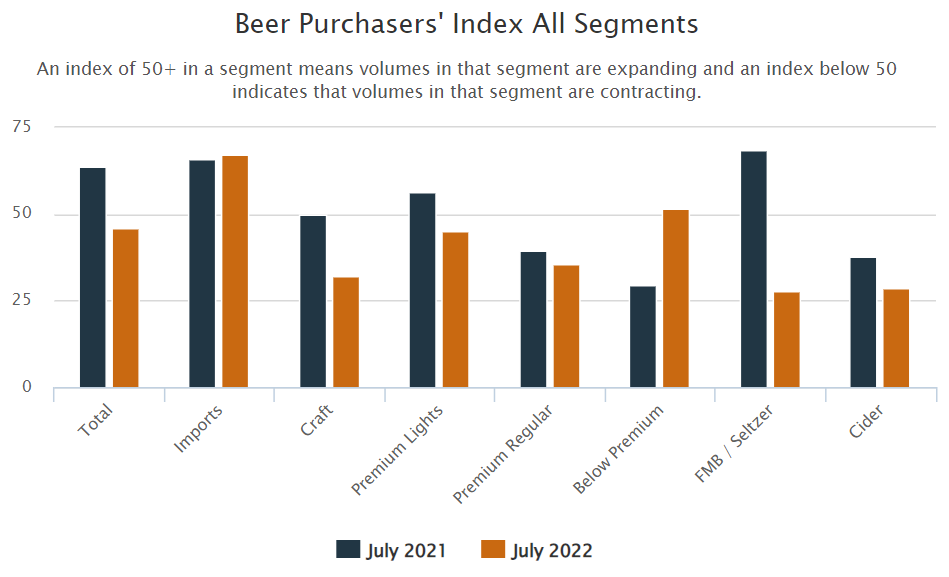 The National Beer Wholesalers Association (NBWA) represents America's 3,000 independent beer distributors who service every state, congressional district and media market across the country. Licensed at the federal and state levels, beer distributors get bottles, cans, cases and kegs from a brewer or importer to stores, restaurants and other licensed retail accounts through a transparent and accountable regulatory system. Distributors build brands of all sizes – from familiar domestic beers to new startup labels and imports from around the world – and generate enormous consumer choice while supporting more than 140,000 quality jobs in their home communities. Beer distributors work locally to keep communities safe by sponsoring programs to promote responsible consumption, combat drunk driving and reduce underage drinking.