Markstein Sales Company Celebrates 100 Years of Family-Owned Beverage Distribution in Northern California
October 2019 marks 100 years of the Markstein Sales Company (MSCo.) Today, the company is a woman-owned and -operated, fourth-generation company continues to thrive into the next century. Markstein has remained a family-owned beverage distributor servicing 1,500 retail accounts in Contra Costa and Alameda Counties of California. From humble beginnings in 1919, Markstein has continued to grow not only as a beverage distributor, but also as an economic and civic leader in the community. The company officially kicked off its anniversary celebration last week in an exclusive invite-only event that included an appearance by the famous Budweiser Clydesdales and brought together customers, employees and community leaders to celebrate this significant milestone.
"We are proud to have served Contra Costa and Alameda Counties for the past 100 years in the distribution of world class beers and other beverages," said Laura Markstein, President of Markstein Sales Company. "My great-grandfather started this company in 1919 with just a horse, a wagon and six cases of beer. Now, a century later, we are distributing over four million cases of beer annually, with a fleet of 35 trucks. While our business has expanded over the past ten decades, our commitment to quality, service and the community remains the same. We were honored to celebrate this once-in-a-lifetime event last week with our suppliers, elected officials, customers, employees and family and look forward to serving the Bay Area into the next century."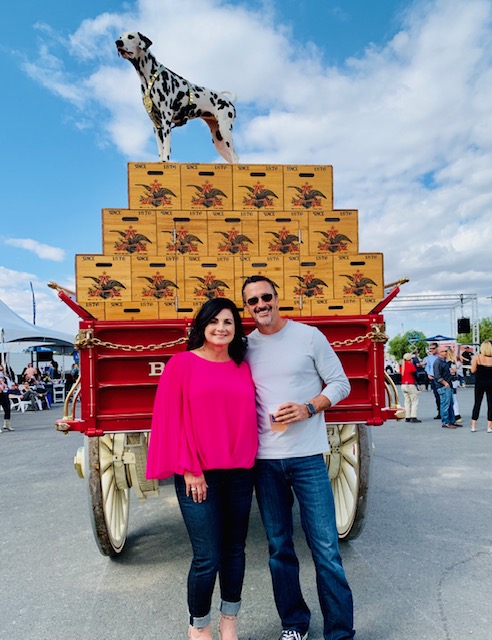 100 Years of Family
MSCo was founded by "Papa", Albert R. Markstein Sr., just prior to prohibition and the business survived through innovation and creative sales techniques such as selling apple cider, soft drinks and near beer. Now, 100 years later, the company is one of a small number of family-owned, women-owned businesses with Al's granddaughter at the helm. The company represents products from more than 30 breweries and 10 non-alcoholic beverage companies, encompassing more than 500 beverage brands. The company continues to change, adapt and grow to stay on the leading edge of the beverage distribution industry.
100 Years of Teamwork
MSCo believes a strong company culture leads to not only long-term employees, but also a long-lasting business, which has proven true over this last century. The company has been consistently ranked as best in class by retailers for more than 20 years and this has been made possible by the teamwork of Markstein's 160 employees.
"Our employees inspire us with the energy, passion, creativity, dedication and knowledge they bring to the workplace every day," said Jennifer Grant, General Manager of Markstein Sales Company. "They continually go above and beyond to provide Markstein Sales Company customers with exceptional service, quality and commitment which has been essential to the company's growth over the past 100 years. We are proud to offer the best to them including benefit packages, wellness plans, compensation, incentives and career opportunities."
100 Years of Community
MSCo is largely invested in Contra Costa County and Alameda County and works hard to support the communities where employees' families live, work and play. The company focuses on the words of its founder, "Always give back to the community that has given us so much." By supporting the local community through event sponsorships and donations, scholarships, annual food drives, partnerships with local first responders and community involvement, MSCo's charitable efforts are well known throughout the community and include:
Hispanic Community Affairs Council, Albert and Bertha Markstein Scholarship Foundation
Nephrotic Syndrome Foundation
Bay Area Crisis Nursery
New Day for Children
Police and Fire: The Fallen Heroes
Antioch Police Activities League
V Foundation
Folds of Honor
The Food Bank of Contra Costa and Solano
Annual 19th Hole Benefit Crab Feed for Antioch High School
The Alameda County Fair
Goodguys Rod & Custom Association
Scottish Highland Games
Lafayette Art, Wine & Music Festival
Clayton Art & Wine Festival
Bay Area Craft Beer Festival
"Markstein Sales Company is a shining example that compassion and thoughtfulness are values that still exist in businesses today," said Tammany Brooks III, Chief of Police, Antioch Police Department. "Not only is it an active partner with the City of Antioch working to improve the quality of life for our residents, but it has also been a long time major sponsor of the Antioch Police Activities League, allowing us to build positive relationships and provide safe and enriching activities for the youth in our community."
"Albert Markstein was a visionary who saw the importance of providing an education for Latino youth, who would in turn, make a big contribution to their community. He and his wife,Bertha were co-founders of HCAC's scholarship program and they left a wonderful legacy that continues through their granddaughter, Laura," said Bettina Flores, President, HCAC (Hispanic Community Affiars Council).