From Fintech: Benefits of Distributor Autopay
Today, NBWA's strategic partner Fintech is bringing you information on the benefits of distributor autopay.
Benefits of Distributor Autopay
How transitioning to electronic payments is safer for your workforce and safer for your retailers.
Now more than ever, you understand the importance of keeping your customers and teams safe and your business running efficiently. As regulations evolve in the post-COVID world and businesses have an increased responsibility to safety and security, are you confident that your current procedures are enough? Throughout the COVID-19 pandemic, the CDC has recommended social distancing as the number one way to prevent the spread of disease. But how does this practice translate to your business in the alcohol industry?
An unwavering commitment to the safety of your teams and customers doesn't always have to be a revolutionary change in business procedures. Transitioning all your retailers to safer, touch-free payments that eliminate hazardous manual processes can complement your current efforts and can be a catalyst for safety and security throughout your entire business. Utilizing autopay for beer deliveries allows your workforce to practice critical social distancing procedures without sacrificing the service for which your team is known.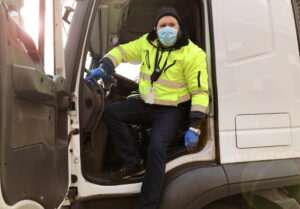 Why use autopay?
Keep your Workforce Safe – Receiving payment for your beer invoices through electronic autopay allows your team to practice social distancing and reinforces the safety of your workforce, suppliers, and retailers as you work across the three-tiers. Fintech has seen close to a 500% increase nationwide in retailer requests for autopay services as distributors move to safer, touch-free practices for their employees and customers.
Speed Up Deliveries – Drivers and sales reps need to not only maintain proper social distancing practices, but they need to move through deliveries quickly. With autopay, your team will never waste time chasing or collecting payments for COD or term invoices. Autopay reduces delivery times by an average of 15 minutes per stop, getting your drivers out of parking lots and back on the road without waiting for an owner or manager to issue payment.
Decrease Invoice Inquiries from your Retailers – Many autopay providers also grant retailers access to an online portal, allowing them to review line-item invoice data and history thus decreasing the calls, texts, or emails that your sales reps and accounting team field.
Save Time and Money at the End of Each Day – Autopay reduces end-of-day expenses associated with driver check-in, payment processing, and deposit preparations.
Adopt autopay for long-term benefits – Implementing an autopay system moves your business one step closer to a completely touch-free process that provides safety and security for all those who count on you. Autopay providers make it easy for your retailers to transition with you by offering electronic payment services for free.
Click here to learn more about transitioning all your retailers to autopay.